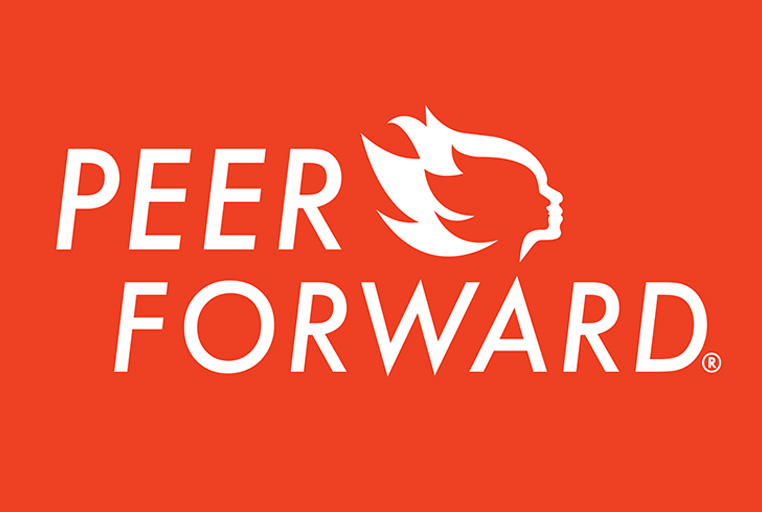 PEERFOWARD
Hazard Community and Technical College is pleased to partner with PeerForward, a national student mentoring program, alongside the Foundation for Appalachian Kentucky, Big Sandy Community and Technical College, and Southeast Kentucky Community and Technical College to offer students access to Peer Leaders. These Peer Leaders are HCTC students who are also AmeriCorps Volunteers who have been trained and are supported by PeerForward to mentor first-time students who may struggle with "how to do college". HCTC has eight mentors, Olivia Murray, Brandon Wolfe, Nikki Fields, Ashton Burks, Alex Hudson, Haley Mullins, and Kasey Moore, who provide encouragement, guidance, and support to first-time students. Up to 70% of HCTC students are low-income and many are first-generation; although Appalachian students have grit and determination, many are under-prepared for college. As a result, some struggle, become frustrated, and consider leaving college. Peer Leaders will help students understand they have been there too and can provide encouragement and direction on how to maneuver that difficult math class, access accessibility services, or seek tutoring. The research is clear that peer-to-peer support better ensures that students will succed. Peer Leader support will improve mentees course completion and retention rate leading to graduation.
Hello! My name is Haley Mullins, I'm 19 years old
and I currently live in Jackson KY. This is my second
year at HCTC and I'm in my second semester of
the Nursing Program on the Lees Campus. I enjoy
hiking, kayaking, and spending time at Cave Run
Lake. I'm so excited to be a Peer Mentor, allowing
me to provide resources, guidance, and new
information to fellow students! I chose to be a
peer leader because when I first started college,
everything was so new to me. I always felt like I
was missing out on important information,
deadlines, and new opportunities. Not only will this
be a good way to connect with other students, but
it will allow me to create a comfortable environment
when students need me. Providing college-related
information is great, but I'm excited to really get
to know other students on a personal level, as a
Peer Mentor or even just a friend.
Hi, I am Brandon Wolfe, and I am a 2020 graduate of
Jackson City School in Breathitt County. I will
graduate in May with my Associate's Degree in
Mechanical Maintenance. I have been accepted into
the Disney College Program, and after graduation, I
will be moving to Florida to work at Disney World. I
enjoy being a peer leader because it allows me to
help other students find information and resources
they need to have a successful college experience.
As a PeerForward Leader, I will be able to help
students navigate their way around school, get
help with tutoring, find resources for their needs
and just be someone to lean on for suppot and
encouragement. I am excited to meet new
students and help them have a great experience
while at HCTC!
My name is Olivia Murray and I am a PeerForward
Leader at HCTC. I graduated from BSCTC in 2020
2020 with an Associate of Arts, and I am currently
in the Regional Radiography Program at HCTC. I
enjoy being outdoors, and spending time with my
friends and family! My goal as a Peer Forward
leader is to give you sound advice, words of
encouragement, and helpful resources to ensure
your success as a college student. Let a Peer
Forward leader like myself be an asset to your
success and share all the opportunities HCTC
has to offer!

"Believe you can and you're halfway there!"
-Theordore Roosevelt
I'm excited to be a Peer Leader and to be
able to use my personal experiences to
help other students navigate through the
rewarding, but also challenging, adventure
that is college. I believe I would have
greatly benefited from having a Peer Leader
during my first attempt at getting a college
degree several years ago so I am eager to
help my fellow students reach their
graduation goals in any way that I can.
Hello, my name is Ashton Burks. I am from Wolfe
County, Kentucky. I am currently in my second
semester of the Radiology program at Hazard
Community and Technical College. I enjoy hiking,
swimming, ad pretty much anything outdoors-
related. I chose to become a Peer Mentor,
because I remember when I first began college
how lost and confused I was. I always wanted a
person to help me with certain tasks or simply
just be there to encourage me to keep doing
good. I want to make as many students as i can
feel confident and want to continue their education
at Hazard Community and Technical College.
Hello, I'm Alex Hudson I am currently a student at
HCTC in the Manufacturing Engineering Technology
Program. I enjoy hanging out with friends and
working with electrical or mechanical equipment.
I decided t be a peer leader because I like to help
others and want to see more people succeed and
surpass their goals.