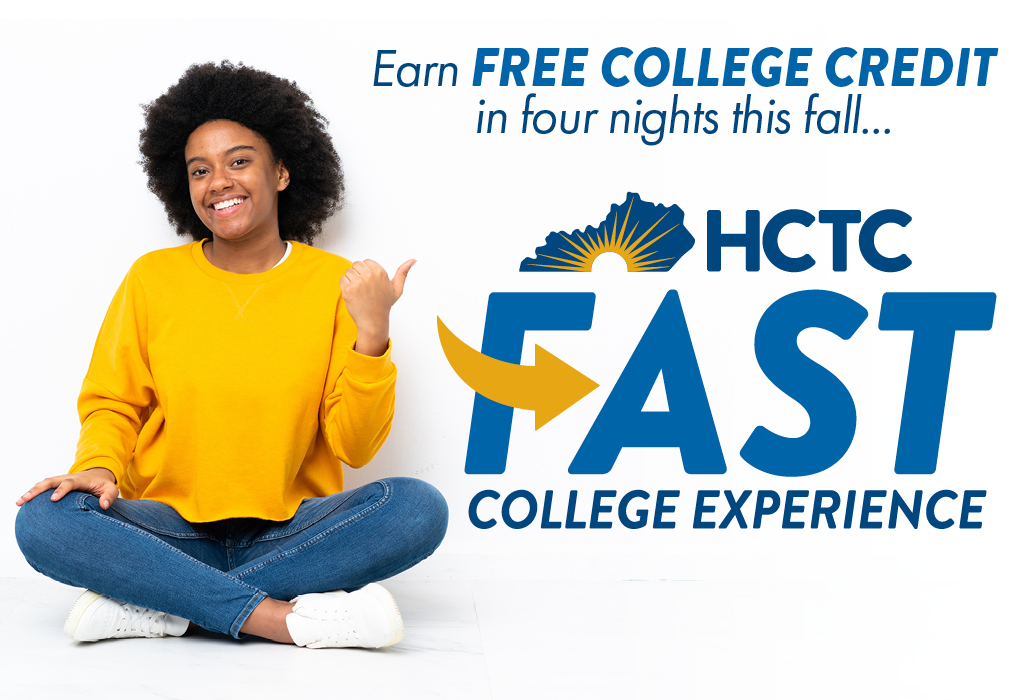 HCTC FAST: Finding Achievement Starting Today
What is FAST?
FAST is an accelerated college experience where students:
gain college course credit
make connections with faculty, staff, success coaches, and peer leaders
get help with tutoring, accessibility, financial aid, and other services
discover all of the resources the college has available
Why should I participate?
There are many reasons you should participate. Here are just a few:
You'll complete your college success requirement* in just one week
You'll get help with refreshers on English and Math
You'll build relationships with faculty, staff, tutors, and peers who want you to be successful
You'll know exactly where to go to get help when you need it
We'll help you get comfortable with Blackboard—HCTC's Online Classroom System
What are the benefits?
The benefits to this summer program are amazing!
Dinner and snacks are provided each day. Who doesn't like free food, right?
Not only will you receive your college success credit, but you'll also meet new people, get the tools you need for success, and help overcome obstacles to doing well in college.
You'll know how to navigate college, get into the program you want, and learn all the steps you need to take to get your college experience off on the right foot.
We also want to make sure you have fun and enjoy your experience, so we'll make it interactive and exciting. You'll earn bookstore credit** for the week—enough to purchase a textbook or two in some cases.
There are also laptop drawings each week***. You could be one of three students each week who wins a laptop! How cool is that? This can really help you get prepared for success.
Did we mention it's FREE****? No? Well, it is. This course costs you nothing except your participation. What could be better than a free college course?
It sounds great! What are the details?
Here's all the information you need to know.
This is a four meeting, in-person program designed for anyone who has a GED or high school diploma and is planning on attending HCTC in Fall 2022. The class meets at Hazard Community and Technical College (Hwy 15 Campus) on Thursdays from 5:30 pm – 8:00 pm. Attendance***** for the four meetings is required for program completion, college credit, and prize awards.
The date are as follows:
Thursday, September 1
Thursday, September 15
Thursday, September 22
Thursday, September 29
There are 25 spots available for this class, and they are reserved on a first come, first served basis. Make sure to enroll with admissions or click the button below to request enrollment.
Need help? Call Bryan Barger at 606-487-3511 or email him at bryan.barger@kctcs.edu.
Additional Information
* The college success requirement is met by completing the competencies for FYE 100. This course is a one credit hour college success requirement for all AA, AS, and Undecided students.
** Bookstore credit is anticipated to be not less than $150 per student but may vary depending upon student participation and completion of the program.
*** Laptop awards will be announced at the conclusion of the program. Students must enroll at HCTC in the Fall semester. Laptops will be given to the student upon the completion of the Fall no-show process. Students must be actively participation in their courses to be awarded the laptop. Being reported as a no-show in the Fall semester may result in forfeiture of the prize
**** The cost of the course is covered by a scholarship based upon a grant funded by the Council on Postsecondary Education.
***** Exceptions may be made in certain circumstances, but is at the discretion of the FAST program director.
This program has been funded by a grant from the Council on Postsecondary Education (CPE). The CPE is a higher education coordinating board overseeing Kentucky's state universities and the Kentucky Community and Technical College System. To learn more about CPE, its mission, its role in higher education, or its ongoing initiatives, visit CPE's website.