Radiography Curriculum
Hazard Community & Technical College/
Southeast Kentucky Community & Technical College
Associate Degree in Applied Science
Regional Radiography Program Curriculum
*Must be completed prior to taking IMG 100.
*Pre-requisite for entry into the program:

General Education Requirements
(General education courses can be completed while active in the Regional Radiography Program)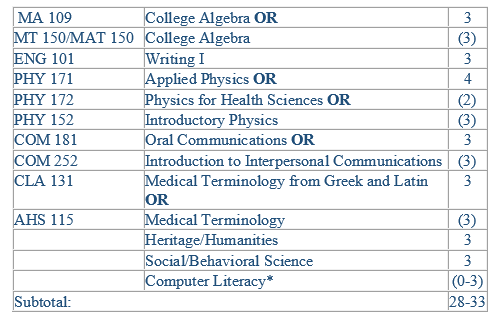 *Documentation of computer literacy as defined by KCTCS is required prior to admission to IMG Courses. Competency exam or college level courses: CIS 100, CIT 105, OST 105, CAD 103, DLC 100, IMD 100 or VCC 150.

Additional General Education: (Highly Recommended)

PSY 223 Developmental Psychology
ENG 102 Writing II
Radiography Program Requirements
First Year
First Semester


Second Semester


Second Year

Summer Session


First Semester


Second Semester

(The curriculum requires course attendance in the fall, spring and summer semesters).
*A CPR certification must be obtained prior to the beginning of IMG 100 and certification must be kept current throughout the program.
*Evidence of receiving the Hepatitis B Vaccine Series or a Vaccine Declination Form must be submitted to the Program Faculty prior to beginning IMG 100.