Leadership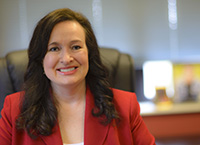 Welcome to Hazard Community and Technical College! At HCTC, we strive to meet the needs of the local communities in which we serve. HCTC provides relevant, quality courses and programs which result in our students being successful in their chosen career pathways. Whether your goal is to obtain a certificate and begin employment or to complete your basics before transferring to a four-year institution, HCTC has the programs and courses for you!
With campuses in Perry, Knott, Leslie and Breathitt counties, HCTC has many options for students who desire the ultimate in-class experience. HCTC also has multiple online and hybrid course options available for those who work or need to stay at home to complete their education.
If you are a business owner and interested in upgrading the skills of your current workforce, our Workforce Solutions Department can assist you in developing customized training to meet your company's needs. HCTC provides short-term, flexible training that can be taken anytime, anyplace, anywhere.
Contact our student services staff and they will point you in the right direction to begin the enrollment process or to choose your career path. Our friendly faculty and staff will provide you with the advisement and training you need to achieve your goals. To get started, just follow our easy admissions checklist.
Please contact us if we can assist you in your goals. We are here to help!

Dr. Jennifer Lindon
HCTC President/CEO
606-487-3100