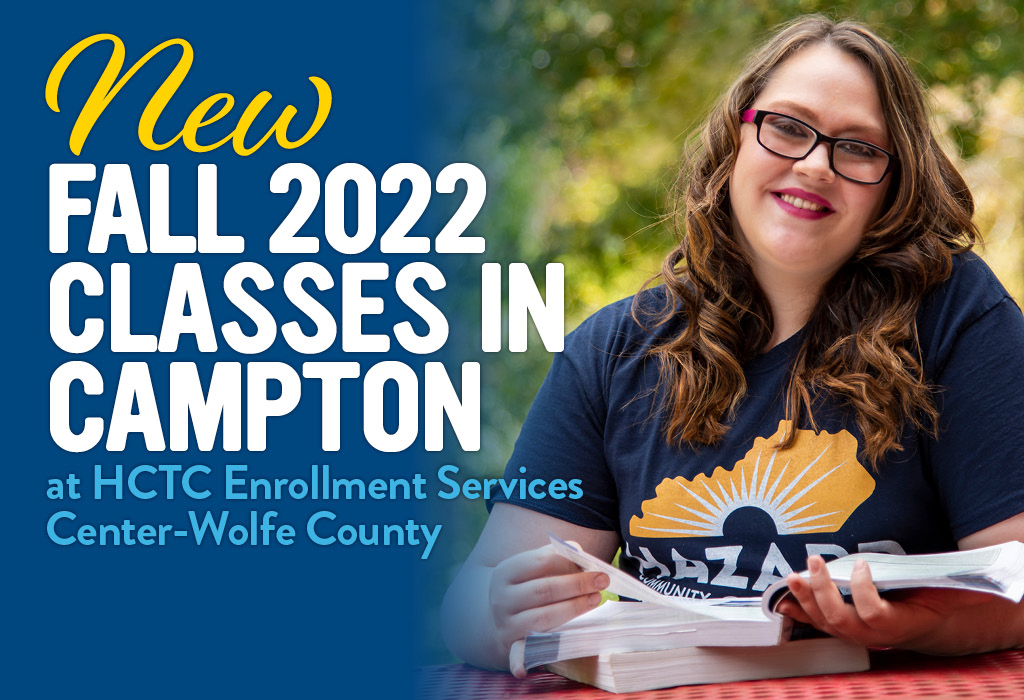 NEW FALL 2022 CLASSES IN CAMPTON
At HCTC Enrollment Services Center-Wolfe County
beside Wolfe County Board of Education
85 Main Street | Campton, KY
Hours: Wednesdays 2pm-5pm
Enrollment Services Center beside Wolfe County Board of Education in Campton is open on Wednesdays 2:00-5:00 p.m. starting August 24 to assist students with all their enrollment needs. Walk-ins are welcome. If you need assistance outside of the location's hours, please call the Office of Admissions at 606-487-3293.
CIT 111-Computer Hardware and Software
(4 credit hours) • Begins October 10 (8-WEEKS) • Tuesday 3PM-4:30PM
The field of Computer Information Technology (CIT) is in high demand. HCTC'S Computer Hardware and Softwareclass (CIT 111) will prepare you for the A+ National Certification, opening doors to the information technology field. Plus CIT 111 is tuition free if you receive the *Kentucky Work Ready Scholarship. This class also counts as an elective in your Associate of Arts or Associate of Science degree. For more information about these classes and HCTC Scholarship options call the Office of Admission at 606-487-3293.
WORKFORCE SOLUTION TRAINING
HCTC's Workforce Solutions will be offering in-person training at the Wolfe County Enrollment Services Center this Fall. The American Heart Association Basic Life Support (BLS) for Healthcare Providers CPR Certification Classes and an OSHA Certification Class. For more information or to enroll contact Scott Elder at 606-487-3325 or email scott.elder@kctcs.edu.
CPR Certification
Tuesdays| 5pm-9pm
3 dates to choose from
October 4, 2022
November 1, 2022
December 6, 2022


OSHA Certification
Tuesdays | 5PM-9PM
Class runs over 3 nights
November 8, 15, & 22