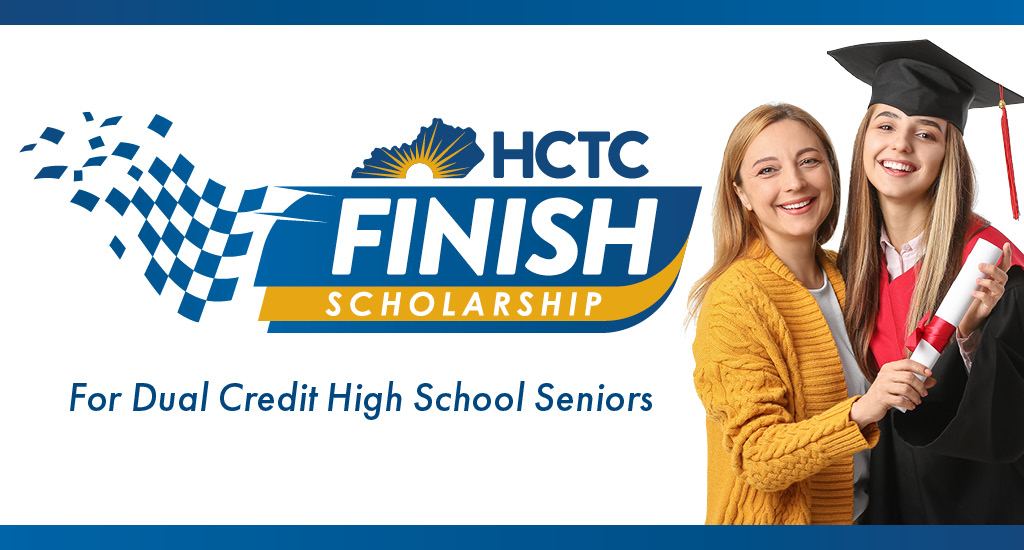 HCTC Finish Scholarship
Are you a 2022 graduating senior who has taken dual credit college or technical (ATC) courses with Hazard Community and Technical College (HCTC) in the past? Trying to decide where to attend college in Fall 2022? Enroll at HCTC and we will guarantee you two semesters tuition free with the HCTC Finish Scholarship!
As you complete your senior year of high school, it's time to start thinking about finishing that diploma or degree you started with dual credit classes at HCTC. Students who have taken dual credit classes in high school have already lowered the cost of a college education. Now a new opportunity at HCTC will make earning their degree even more affordable. HCTC is introducing its new HCTC Finish Scholarship is accepting applications for Fall 2022/Spring 2023 scholarships. Start here, finish here!
"With convenient campuses across the region, small class sizes, and highly qualified faculty who truly care about students, HCTC has so much to offer college freshmen. The new HCTC Finish Scholarship is another way we can provide the best value to new high school graduates," HCTC President Jennifer Lindon said.
2022 high school graduates who completed at least one dual credit class as a high school student are eligible. Students may have completed dual credit at any Kentucky Community and Technical College System colleges, but priority will be given to HCTC dual credit students. Applicants must have a 2.5 high school and dual credit GPA.
*Scholarship applicants must first complete HCTC's free admissions application and the Free Application for Federal Student Aid (FAFSA). The Finish Scholarship is a last-dollar-in scholarship. After financial aid and other tuition assistance, such as the Federal Pell Grant, Kentucky Educational Excellence Scholarship (KEES, and institutional scholarships are applied, the HCTC Finish Scholarship will cover up to15 credit hours per semester—for two semesters. Family income will not be considered.
The new scholarship is especially helpful to students who are entering programs that are not eligible for the Work Ready Kentucky Scholarship. This includes HCTC students completing the first two years of a bachelor's degree (Associates in Arts or Associates in Science), before transferring to a four-year college or university.
"Our goal is to make HCTC's tuition — the lowest in the state — even lower and to see more dual credit students finish the degrees they started in high school," Lindon said.
For more information contact Carla Seals email Carla.Seals@kctcs.edu or call 606-487-3072.