HCTC's Evelyn Hudson completes BRIGHT Leadership Kentucky training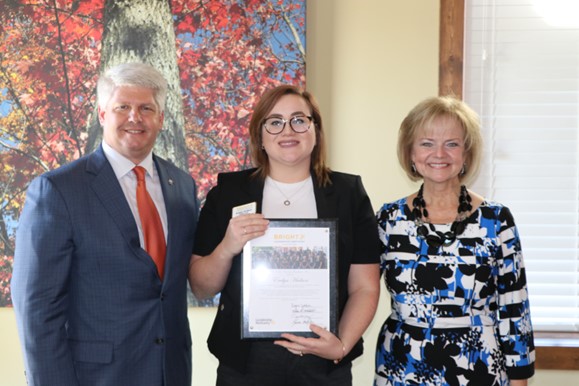 HCTC's Evelyn Hudson (center) is a graduate of the BRIGHT Leadership Kentucky training. She is shown at the graduation ceremony with Elmer Whitaker, CEO of Whitaker Bank and Leadership Kentucky Board of Directors member; and on right, Janice Way, President of Leadership Kentucky.
Evelyn Hudson considers her BRIGHT Leadership Kentucky training as a very rewarding experience, and she is proud she is now a graduate. Hudson is the Reference and Instruction Librarian at Hazard Community and Technical College, and she plans to utilize what she learned as she grows into leadership at the college.
The BRIGHT program of Leadership Kentucky gathered young professionals in the Appalachian region of Kentucky. Hudson noted, the group "connected us, made us think differently about ourselves, our communities, and what the future of our region can look like."
BRIGHT offers training around leadership skill development, communication, economic development, networking, community engagement, collaborating and building consensus. "The program gave me permission to have pride in my Appalachian/Eastern Kentucky upbringing. There is a misguided belief that Eastern Kentucky has been drained of all her precious resources, especially her bright, hardworking people. That isn't true and I can now give you at least 42 reasons why. These people are amazing and innovative and want to see our region succeed. When you witness that passion pulled together in a single room, you're bound to be dazzled," Hudson said.
HCTC President Dr. Jennifer Lindon is proud of Mrs. Hudson's work and praised her for recently stepping up into a leadership role at the college as chair of the Equity and Inclusion Council.​​
Hudson appreciates the focus of the BRIGHT program—the effort on recruiting from the counties in Kentucky covered by the Appalachian Regional Commission, some of the economically hardest hit counties in the nation. "I learned so much more about myself, our communities, and where Appalachia Kentucky fits in moving forward as a state and a nation. I have displayed my BRIGHT graduation certificate alongside my undergraduate and graduate degrees because BRIGHT has given me an education of significant value. I think the impact of BRIGHT on Eastern Kentucky will be felt in our region for decades to come as they send us back into the area more determined than ever, armed with confidence, tools, and a network of other fearless and tenacious Eastern Kentuckians."
Hudson attended Morehead State University and earned her Bachelor of Arts in English Literature in 2013, then attended the University of Kentucky and earned her Master of Science in Library Science in 2015. She lives in Jackson.
"The organization, Leadership Kentucky, offers several programs for leadership development, but I believe BRIGHT was the most needed. So many Eastern Kentuckians carry shame around being from here, living here, or sharing in this Appalachian culture. Bringing us together reminded us that we have value, that value is compounded by our culture, and our greatest strength has always been in the care we have for each other and our communities. I will carry the program leaders and my cohorts in my heart for the rest of my life," Hudson said.