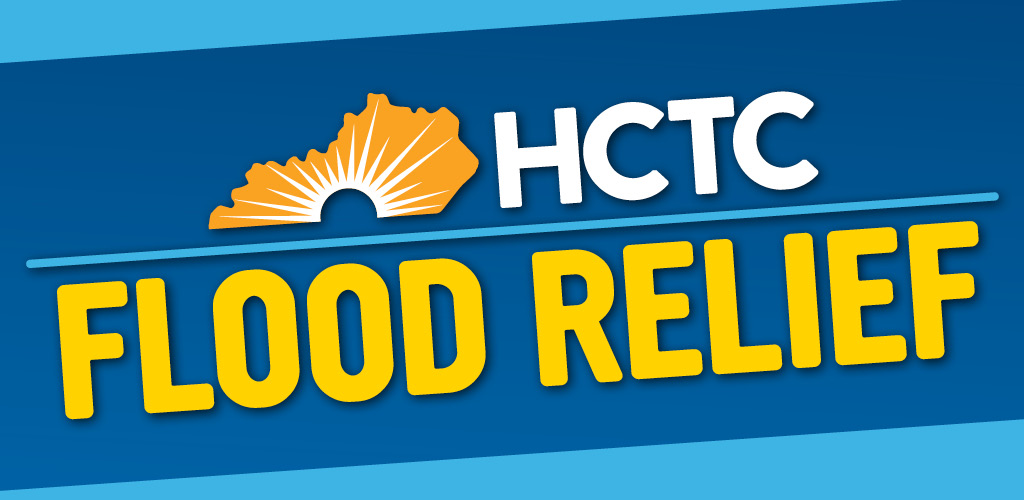 HCTC Flood Relief
Eastern Kentucky is reeling from the devastation and loss of lives and property resulting from the flash flooding that occurred this week. Through the generosity and support of local, state, and national donors, Hazard Community and Technical College has been able to establish an HCTC Flood Victim Relief Fund. If you are a full- or part-time student with us and have been affected by the flooding and want to apply for assistance, please click on the link below (Apply for Student Assistance). We will award and distribute the funds (up to $500 per student) based on application date and need as quickly as possible. Please know that funds are limited. While we know the damages are great, the hope that the emergency funds will assist with meeting some immediate needs.
We have a number of services on our Hazard Campus today and throughout the week for those affected by the recent disastrous flooding across our Eastern Kentucky region.
FEMA is on our Hazard Campus in their mobile registration unit outside of the First Federal Center. They will be available to anyone affected by recent flooding for registration assistance Monday-Friday 7 a.m. to 7 p.m. Information you will need when applying for FEMA assistance: ▪️Social Security Number ▪️Annual Household income ▪️Insurance info (if any) ▪️Bank account info ▪️List of damaged/lost items For more information go to
https://www.fema.gov/disaster/4663
.
The Kentucky U.S. Small Business Administration is in the Perry County Business Recovery Center (BRC), located in the Jolly Classroom Center (1 Community College Drive, Hazard, KY 41701, Hours of Operation: Monday-Friday: 9 a.m. to 6 p.m., Saturday: 10 a.m. to 2 p.m., Closed: Sundays) today helping with applications for those businesses affected. Business owners and residents in Eastern Kentucky can apply for disaster assistance to help recover and rebuild following severe storms, flooding, landslides, and mudslides that began on July 26. For more information on the BRCs, go to
https://tinyurl.com/3jpkuj77
. If you can't make it to campus, you can apply for disaster assistance here:
https://disasterloanassistance.sba.gov
. For more help, contact SBA's Customer Service Center at 800-659-2955 (if you are deaf, hard of hearing, or have a speech disability, please dial 7-1-1 to access telecommunications relay services), or email
DisasterCustomerService@sba.gov
.
For more information on where to pick up supplies, how to get replacement documents, and more go to https://governor.ky.gov/flood-resources. #easternkentuckystrong #ekystrong #HCTCproud #neverunderestimateyou
Apply for student Assistance
ONLINE GIVING
You can help by making a donation to the HCTC Flood Victim Relief Fund. You may make your donation in person at the HCTC Hazard Campus President's Office in the Jolly Classroom Center or by mail to Hazard Community and Technical College, Attention: Carla Seals, One Community College Drive, Hazard, KY 41701. If you prefer to donate online, go to https://systemoffice.kctcs.edu/giving/give-now.aspx. Choose Hazard Community and Technical College, then click HCTC Flood Relief from the drop down list when prompted. All donations are tax deductible.
DONATION DROP-OFFS
Item donation collection points are setup at the Hazard Campus- Jolly Classroom Center Lobby, Technical Campus- Devert Owens Building Front Entrance, and Lees College Campus-Smith Building Front Entrance. Items needed include cleaning supplies, hygiene products, bottled water, and diapers. We will deliver the items weekly to critical areas.
The need will be great in the coming weeks and months, so please continue to think about ways to support these individuals and their families as they work to rebuild their lives. #HCTCproud #neverunderestimateyou
Water
Baby Wipes
Hand Sanitizer
Disinfecting Wipes
Deodorant
Shampoo and Condition
Body Soap
Toothbrushes and Toothpaste
Toilet Paper
Feminine Hygiene items
Dog Food
Garbage Bags (lg)
Paper Towels
Bleach
Laundry Detergent
Brooms
Mops
Shovels
Pine Cleaner
Disinfecting supplies
Can opener
5 gallon buckets
Sponges
Scouring pads
Clothes pins
Dust Masks
Gloves
D Batteries
Flash lights
First Aid Kits
Insect repellant Spray
Fans
Hazard Campus – Jolly Center Lobby (JCC)
Lees College Campus – Smith Administration Front Entrance
Tech Campus – Devert Owens Lobby