Bart Massey receives Outstanding Staff Award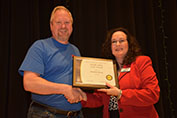 Hazard Community and Technical College honored Bart Massey with the Estella Salley Outstanding Staff Award for his excellence with the USA Drone Port. Massey was honored at a college-wide meeting by HCTC President Dr. Jennifer Lindon.
Through his work with the USA Drone Port, Massey has provided leadership on a regional level that is truly influencing economic development in the region. His work is bringing positive attention to the aviation-related resources in Eastern Kentucky. He initiated the development of a regional partnership between Knott and Perry counties, Wendell Ford Airport and HCTC to form the USA Drone Port. He created a plan for the development of the physical drone port initiative. He is applauded for developing partnerships with additional institutions and organizations. The project builds on the assets of the region, Kentucky being the second largest exporter of aerospace products.
Massey has contributed to the college by teaching courses on how to build and fly drones, assisting in the development of four drone technology certificates, organizing two large search and rescue training events, instructing at a regional fire school training event at HCTC, and teaching FAA 107 pilot license courses to the community and state, he has introduced over 800 high school students, community members, businesses and organization to the unmanned aerial vehicles industry and trained 40 men and women through classes at HCTC to become licensed remote pilots. He has written and published several books on the subject, and led a talented team to accomplish a great deal in a short amount of time. Land was donated for the project, training events have been held here, which included the first search and rescue training utilizing drones in the state and brought thousands of dollars into the local economy and visitors Missouri, North Carolina, Tennessee, Ohio, Florida, Indiana, Kentucky and Georgia to participate in the training.
He was named Man of the Year by the Hazard-Perry County Chamber of Commerce on May 1 during the annual Civic Night celebration. In presenting the award, last year's Man of the Year Chris Gooch said of Bart, "He had a vision for what drones and unmanned vehicles could mean to this area, and he hasn't stopped since. Mostly recently, he and a team were selected as one of the top 10 teams in the world for their innovation and vision with drones, as they will compete soon before government stakeholders. He has assisted to bring experts in the field to our area, from inventors in California to FAA experts from Oakridge National Laboratory, and he has helped create collaborations with the Kentucky Transportation Cabinet Department of Aviation, the University of Kentucky's Unmanned Systems Research Consortium, and Unmanned Systems Inc., just to name a few. The sky is the limit when it comes to drones, and this man's vision is on a large scale. He knows what can be accomplished. He knows he can't do it alone but he knows how to encourage others to join in his venture because of his enthusiasm and passion."
Massey lives in Hazard and has two sons: Evan, who is currently stationed in Norfolk with the U.S. Navy, and Thomas, a student at Hazard High School. Bart is the son of Harold and Ann Massey of Somerset.