HCTC Welcomes New Voice to Mountains as Eastern Kentuckian Amelia Holliday Takes on Communications Position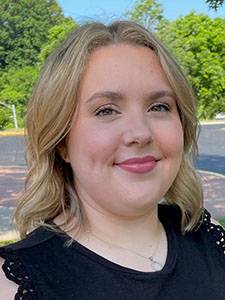 Hazard Community and Technical College (HCTC) has a new "voice" as of June 1. Perry County native Amelia Holliday has been hired as the successor to the HCTC Coordinator of Communications position left vacant earlier this year by Evelyn Wood after her three decades with the title.
For as long as she can remember, writing has been a passion for Holliday. From writing short stories on the backs of scrap printer paper to writing for her hometown newspaper, she seems to have found her niche in the workforce.
"I always wanted to be a writer. I went through school trying to figure out the best way to write for a living and not be a starving artist," Holliday says with a smile.
A product of the Perry County School System, Holliday graduated from Perry County Central High School in 2008 as salutatorian of her class. She enrolled at Morehead State University (MSU) and eventually landed the position as editor of the school's student-run newspaper, The Trail Blazer. In 2012, she graduated with honors from MSU with a bachelor's degree in communication with an emphasis in journalism and almost immediately started a job as a staff reporter for her hometown paper The Hazard Herald.
During her two and a half years at the Herald, Holliday covered local and statewide issues, politics, and personal interest stories. She also earned statewide recognition for her work, including first place in the enterprise category during the 2013 Kentucky Press Association annual awards ceremony. The Kentucky Rural Health Association presented Holliday with its top prize as well in its 2013 contest in recognition of her strong reporting on local health issues.
In 2015, Holliday decided to leave her position at the Herald and joined the Eastern Kentucky Concentrated Employment Program (EKCEP), Inc., as the marketing communications associate for the communications division of the non-profit organization. During her time at EKCEP, she furthered her skills in multimedia, interviewing, and social media.
Holliday accepted the position with HCTC in May 2021 and started working just two weeks before Wood retiring.
"It's been a blessing and a curse to be trained under Evelyn because I've been able to benefit from all of her experience, but I also got shown firsthand the big shoes I'm about to fill," she says with a laugh.
HCTC President Dr. Jennifer Lindon notes that while Wood will be impossible to replace at the college, she believes Holliday was and is the best candidate for the job.
"We're sad to see Evelyn go, but we're excited to start a new chapter with Amelia," Lindon says. "If you see her out in the community, at one of HCTC's events, or on our social media pages, don't hesitate to make her feel welcome."
Holliday says she hopes to expand HCTC's reach in the social media realm, to post more engaging content for former, current, and future students, and to continue to tell people's stories through print, video, and any other form of media.
"I've spent my career so far telling the stories of the people in our region—I'm going to do my best to continue that here at HCTC," she adds.
To find out more about Hazard Community and Technical College, go to hazard.kctcs.edu, and follow us on Facebook, Twitter, Instagram, and TikTok to get the most up-to-date announcements.