HCTC success story: Jordan Whitaker and his surveying career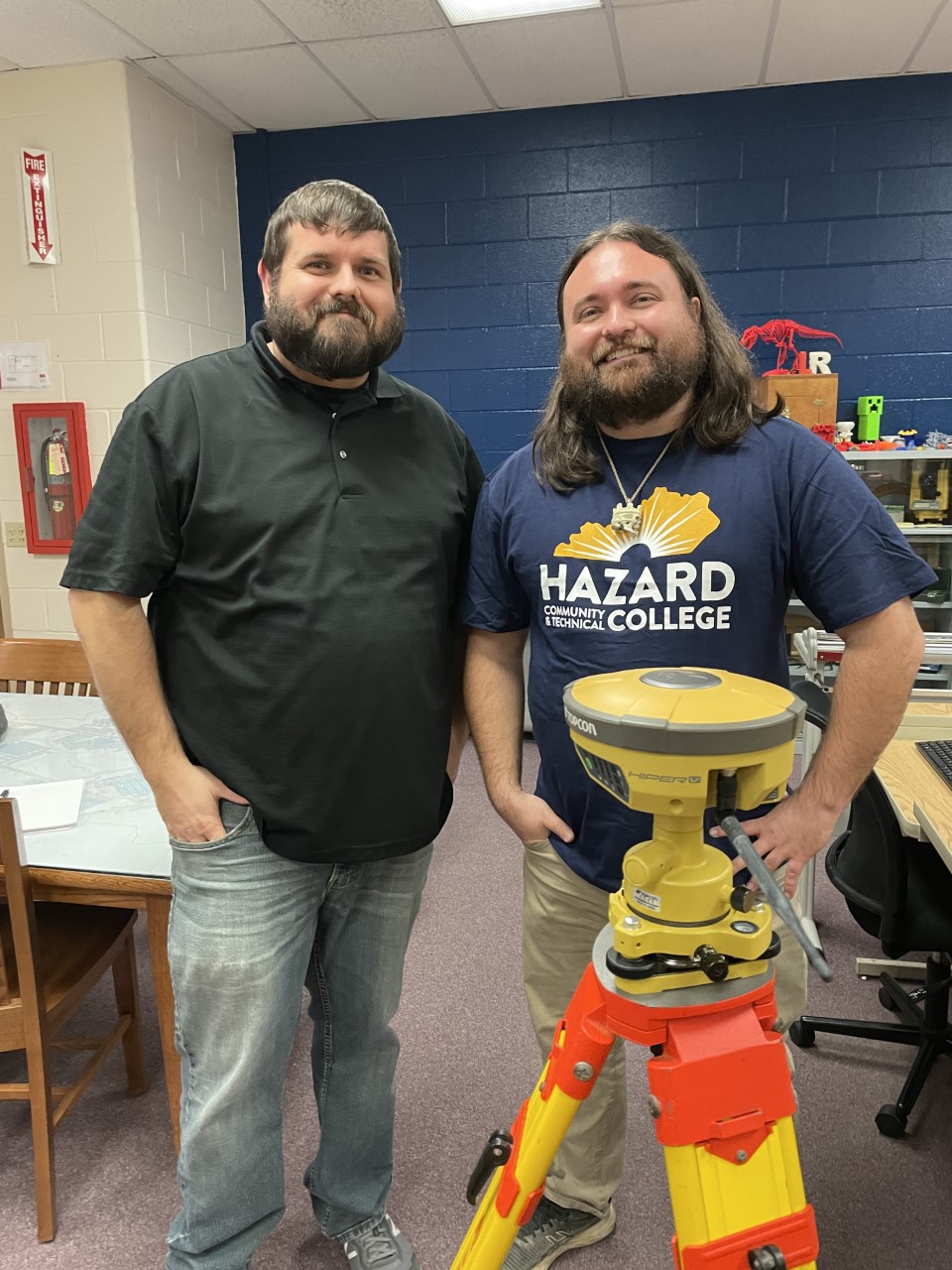 Austin Rafferty (On left) and Jordan Whitaker (On right)
Jordan Whitaker's rich life experiences include living in Egypt and China, but now this Hazard Community and Technical College graduate is glad to be back home, pursuing his career in Surveying and he appreciates the training he has received from HCTC in his chosen career.
Whitaker is employed at B&W Resources, which is based in London, Ky. "I love surveying," Whitaker said, adding, "You can use it to help people."
After earning certificates in Surveying in May 2022 from HCTC, Whitaker is pursuing further education at the University of Wyoming, so he can complete his education online in the fall.
"I love HCTC," Whitaker said. "This is the place where I first felt freedom after graduating high school," he noted. "HCTC and all of KCTCS make education accessible, practical, and within the reach of everyone," he said. "I have had access to the brightest teachers here," he said.
Whitaker wants others to know how much HCTC employees care about whether their students succeed. He said all of his classes were fantastic. He has been surveying with his dad, Curtis Whitaker PLS, since he was age 14. HCTC gave him the opportunity to deepen his knowledge of the history of surveying, its laws, and the mathematical theory behind it. He has learned professional standards and so much more from Program Coordinator Austin Rafferty. "I would have taken even more courses here at HCTC if they were available," Whitaker said.
Whitaker first started at HCTC after his 2009 graduation from Perry County Central because of his interest in archaeology. "I wouldn't be the same without the great teaching of HCTC professors Ron Reed, Madeline Flannery, Mike Strickland, and Sandra Blandau," he said. They gave him a good foundation as he went on to graduate from the University of Kentucky. After graduating from the University of Kentucky with a degree in Anthropology, he briefly worked at the UK Archaeology Department and began earning a master's certificate in teaching English so he could move overseas to continue his education.
Because of his ability to teach English, Whitaker and colleagues moved to Wuping, Fujian China to teach English as a second language at the Hakka Learning Center. Afterward, he and his colleagues scattered around the globe, and Whitaker traveled to Egypt. Both trips resulted in life-changing experiences. But when he returned to the states, he was unable to find work relevant to his multiple degrees and the ability to speak three languages. He ended up as a factory supervisor in Richmond, Ky.
Jordan eventually decided to return to the field of surveying, and he's glad he did. He loves the challenge of working outside, even though that involves blizzards, rainstorms, and rattlesnakes. Finding historic places, happening upon herds of elk, and finding Indian artifacts are all benefits of his new line of work.
Assistant Professor and Program Coordinator Austin Rafferty said he was impressed by the life experience that Whitaker has had. "Jordan has lived a life that most only dream about and he is still really young and has so much life to live. I foresee Jordan having a very successful surveying career and owning his own company one day soon. I also hope to see a partnership with the Surveying program at HCTC. Jordan has a passion to learn and a strong desire to pass on his knowledge to those around him; this is demonstrated through his willingness to help anyone he can to be successful in the surveying field," Rafferty said.
Whitaker knows his life is on the right path and he is thankful HCTC was available to him so he can make a brighter future for himself.
Want to become the next success story? Call HCTC about enrolling.