HCTC graduates 27 nursing students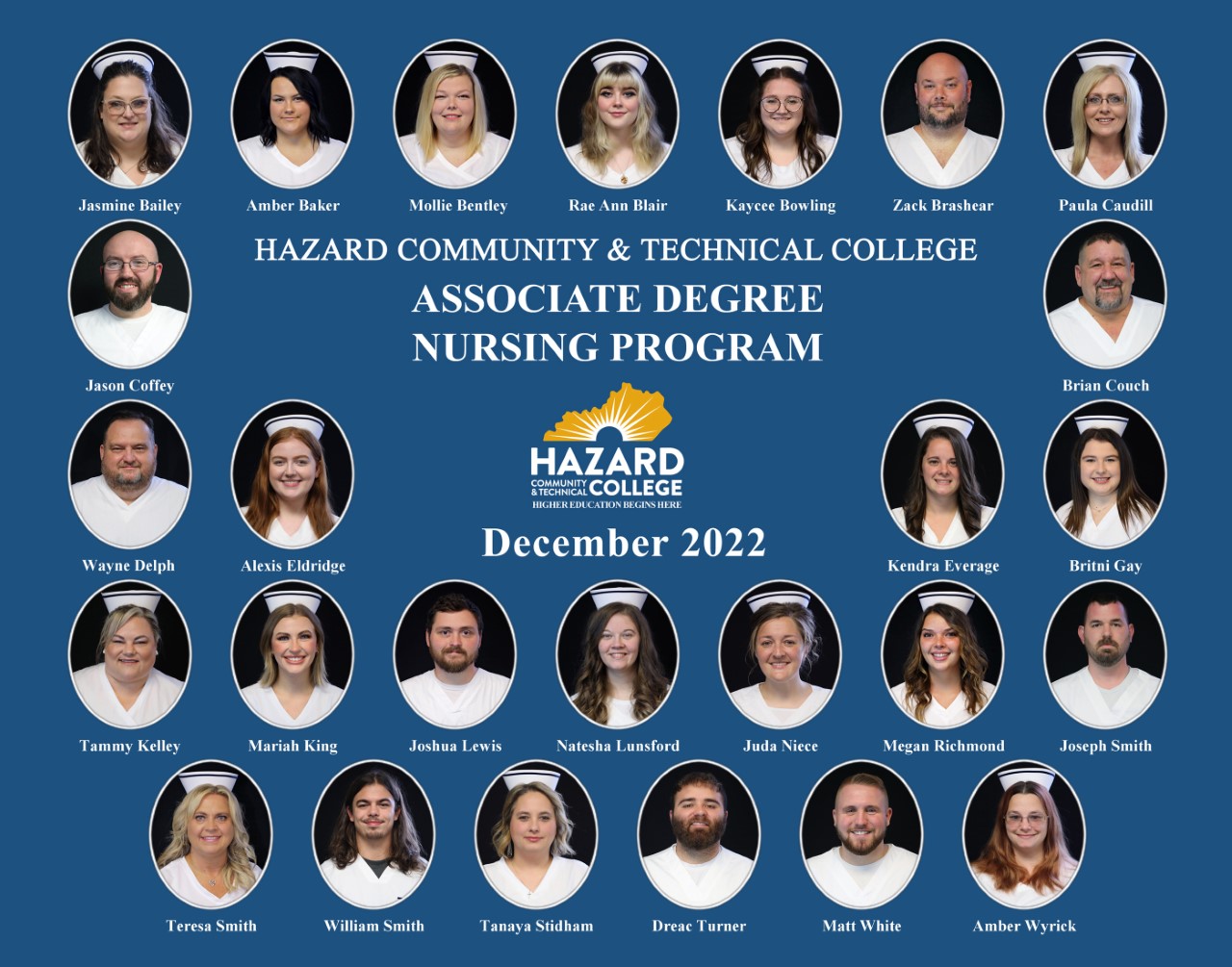 It was a day of great celebration for 27 nursing students at Hazard Community and Technical College because they graduated from the two-year Registered Nursing (RN) program with degrees, despite dealing with a pandemic and an unprecedented regional flood.
The Dec. 10 ceremony in HCTC's First Federal Center prompted Nursing Coordinator Christy Martin to give her utmost praise for their accomplishments. "This group has worked very hard, and they are eager to get started in their chosen profession. They have come through nursing during a global pandemic and received experience that not all students would have received. All of the nursing faculty and I are very proud of them," she said.
Brian Springate, Hazard ARH CEO, guest speaker for the event, is happy to see more nurses staying local. He told the nurses he was excited for their future because they have chosen a very rewarding profession, and he hopes to see them working at Appalachian Regional Healthcare hospitals.
HCTC President Dr. Jennifer Lindon thanked the students for not giving up on the HCTC nursing program and not giving up on themselves. She told the crowd the students have shown resilience and strength in completing a tough program despite various personal trials and tribulations, a worldwide pandemic, and a natural disaster like one we have never seen before. "I have no doubt in emergency situations on the floor that they will display grace under pressure as they have already done. The future of our local healthcare is in competent hands," Dr. Lindon said.
The graduates are: Jasmine Bailey, Amber Baker, Mollie Bentley, Raeann Blair, Kaycee Bowling, Zackery Brashear, Lena Campbell, Paula Caudill, Jason Coffey, Brian Couch, Wayne Delph, Alexis Eldridge, Kendra Everage, Britni Gay, Tammy Kelley, Mariah King, Chase Lewis, Natesha Lunsford, Juda Niece, Megan Richmond, Joseph Smith, Teresa Smith, Tayton Smith, Tanaya Stidham, Dreac Turner, Matt White, and Amber Wyrick. They were surrounded by family and friends attending the ceremony to cheer them on, understanding what a sacrifice the class made to make it to this point. HCTC knew to expect a large crowd of supporters, but the droves of friends and family was even larger than anticipated.
Another class of nursing students will graduate in May. HCTC accepts a new nursing cohort every semester.
Anyone wanting to enter the nursing profession is encouraged to enroll in classes beginning in January. To learn more, visit the website Hazard.KCTCS.edu and see about academic advising available during the holiday break. Spring classes begin Monday, Jan. 9.