What is Health Information Technology?
This program prepares the graduate to take an active role in the field of health information management. Graduates will interact with physicians, health professionals, and financial and administrative staffs to ensure the protection of information systems. Graduates will help determine health information budgets, resources and policies, utilizing current and accurate data. The curriculum includes course work in the supporting sciences and general education areas. Classroom instruction is supplemented with learning experiences in the campus laboratory and in area health care facilities. Students enrolled in the Health Information Program are required to achieve a minimum grade of C in each Health Information Technology course.

Health Information Technicians are employed in hospitals, medical clinics, nursing homes, other health care facilities and industry.
For more information, check out our program information sheet.
What are my career choices?
Medical careers are very portable. Jobs may be found throughout the country. You can work in places like doctor's offices, assisted living facilities, clinics, the health department, hospitals, laboratories, or pharmacies. Students can come out of the program employable, or choose to complete additional education at the bachelor or masters level, where more focused opportunities will become available.
Where can I work?
With the Health Information Technology degree, individuals may be employed in a wide range of healthcare facilities, as well as, other industries such as:
Hospitals
Doctors' offices
Assisted Living Facilities
Outpatient Care Centers
Health Departments
Clinics
What are my degree, diploma, or certificate options?
Degrees and Transfers
Health Information Technology
Certificates
Medical Records Coding Specialist
Release of Information Data Specialist
Transfer Credit for HIT Courses:
Since Hazard's HIT program is a CAHIIM accredited program, HIT courses taken in another CAHIIM accredited program will be reviewed for transfer credit. For transfer credit to be considered, the HIT courses must have been taken during a timeframe of CAHIIM accreditation. Transfer credit for approved HIT courses cannot exceed the majority needed for HCTC's HIT program.
More Information
Accreditation
The Associate Degree Health Information Technology Program at HCTC is accredited by the Commission on Accreditation for Health Informatics and Information Management Education (www.cahiim.org). Graduates of the program are eligible to take the American Health Information Management Association's (AHIMA) Registered Health Information Technician (RHIT) examination.
Associate Degree Student Outcomes (compliance with CAHIIM Standard for Accreditation):
Academic Year 2016-2017
Graduates Employed or pursuing Additional Education: 66.7%
Employed in Field: 55%
Graduate Satisfaction Rate: 100%
Retention Rate: 93.1%
Attrition Rate: 6.9%
Acceptance of courses transferred from regionally accredited schools are accepted at HCTC: 100%
Acceptance of courses transferred from CAHIIM accredited programs are accepted as equivalent into appropriate program courses: 100%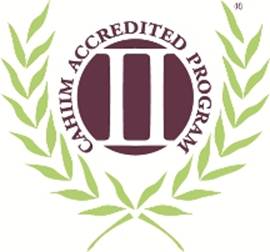 Length of Program
You can earn an associate in applied science degree in two years if you maintain full-time status.
This information should not be considered a substitute for the . You should always choose classes in cooperation with your faculty advisor to ensure that you meet all degree requirements.