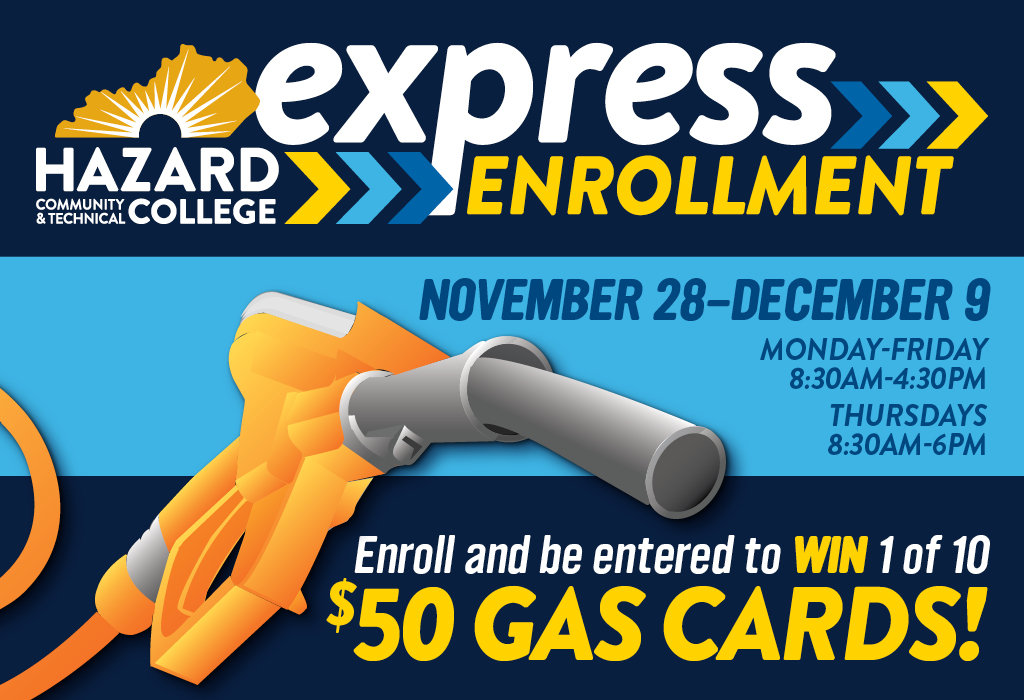 Express Enrollment
November 28-December 9
Hazard and Lees College Campuses
Monday-Fridays from 8:30 AM-4:30 PM
Extended Hours: Thursdays from 8:30 AM – 6:00 PM
Hazard Community and Technical College (HCTC) has hug selections Spring classes to choose from. So, stop by, call, or email us during Express Enrollment. Walk-ins are welcome at both locations. Virtual and in-person appointments are also available but not required. You may enroll with an unofficial transcript.
When you enroll during Express Enrollment, you will be entered to win one of ten *$50-dollar gas cards**. We will be drawing and announcing the winner on Facebook at 2 PM for one gas card each day starting the second day of express enrollment with the final drawing occurring Monday, August 8! That means the earlier you come in and register during Express Enrollment, the more chances you have to win!
For more information to enroll call 606-487-3293, email Hazard-Admissions@kctcs.edu or stop HCTC"s Enrollment Service Centers.
Hazard Campus Enrollment Service Center | First Federal Center | Room 107
Lees College Campus Enrollment Service Center | E.O. Robinson Intergenerational Training Center | Room 201
*Contest Rules: You must be a full-time, credential-seeking student enrolling in HCTC spring 2023 classes during Express Enrollment to qualify.
** Regulations governing federal student aid programs (grants, loans, and work study) requires the reporting of any gifts/prizes awarded by an institution to be reflected in a student's financial aid Cost of Attendance (COA) budget during the academic year the gift/prize was awarded. Please note, when a student's COA is fully met it can result in a student becoming ineligible to receive a federal student loan, state grant award or work study award for the academic year/semester in question (or have those awards reduced to fully meet the COA budget).
If you are currently enrolled please contact your advisor to register. Each advisor has a preferred method of contact. Below are the most common ways in which you can reach your advisor
Starfish can be access through the Student Self Service Center
Email (locate your advisor's information in your Starfish Success Network)
Phone (locate your advisor's information in your Starfish Success Network)
No assigned advisor? Contact the Enrollment Services Center - 606-487-3040