About UCM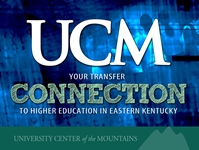 UCM is committed to working collaboratively with partner schools to provide the community with access to advanced degrees, certificates, diplomas, professional certifications, and other credit and non-credit lifelong learning opportunities. In addition, the consortia plan to address the economic and workforce needs, leadership, and community development needs in Eastern Kentucky.
What makes UCM unique, compared to other university centers or centers of higher education, is that classes from partner institutions are made available on the HCTC campus to students who wish to remain local while completing their education. Additionally, it is a partnership that encourages working together and sharing resources to benefit the students and community. Our partner schools provide access to quality programs and classes with courses taught by in-person faculty utilizing various distance education modes. These distance education platforms include interactive television video (ITV), Internet, or teleconferencing software. In addition to remote courses, UCM offers student services which include assistance with applications, registration, advising, and financial aid. Furthermore, thanks to a $395,000 Appalachian Regional Commission grant, HCTC can provide offices to partner universities, fostering a successful collaboration effort.
The need for the UCM is tremendous because it provides a cost-effective and accessible means to increase access to articulated degree programs. This resource is especially beneficial since Southeastern Kentucky lags behind other Commonwealth and United States areas in the number of bachelor's degrees and professional degrees obtained. Our region has the lowest percentage of college graduates over age 25, with only 8.6% of the Kentucky River Area Development District's eligible population holding a bachelor's degree. Compared to 17.1% statewide and 24.4% nationally. By allowing access to resources and providing support to students on their educational journey, UCM is dedicated to improving these statistics and empowering our community to seek out higher levels of education.
The UCM administrative offices, partner advisors, and remote classrooms are located in the First Federal Center on HCTC's campus in Room 119.