About UCM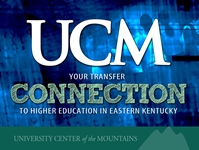 In addition to advanced degrees, the partners intend to work collaboratively to bring other credit and non-credit lifelong learning opportunities as well as certificates, diplomas, and professional certifications. The consortia intends to address the economic and workforce needs, leadership and community development needs in Eastern Kentucky.
Quality programs and classes are taught by qualified faculty employed by the individual institutions. Courses are taught by in-person faculty, and in the various distance education modes including, interactive television video (ITV), Internet, or web enhanced.
The UCM is a cost-effective means to increase access to articulated degree programs. The UCM is not a new university, but instead a partnership which encourages collaboration and sharing resources to benefit the students and community.
The UCM is unique to other university centers or centers of higher education. Courses and student services are available on not just one site but on the HCTC campuses. Student services include assistance with applications, registration, advising and financial aid. The UCM administrative offices are located in the J. Marvin Jolly Classroom Center on the Hazard Campus of HCTC Room 152. A $395,000 Appalachian Regional Commission 5,700 square feet grant project provided offices housing the partners.
The need for the UCM is tremendous. Despite making significant progress in the past several decades in educational and economic attainment, Southeastern Kentucky lags behind other regions of the Commonwealth, as well as, the United States in the number of bachelor degrees and beyond. This region has the lowest percentage of college graduates over the age of 25. Only 8.6% of the eligible population in the Kentucky River Area Development District holds a bachelor's degree, compared to 17.1% statewide and 24.4% nationally.